52 Best Website Builders Sorted by Popularity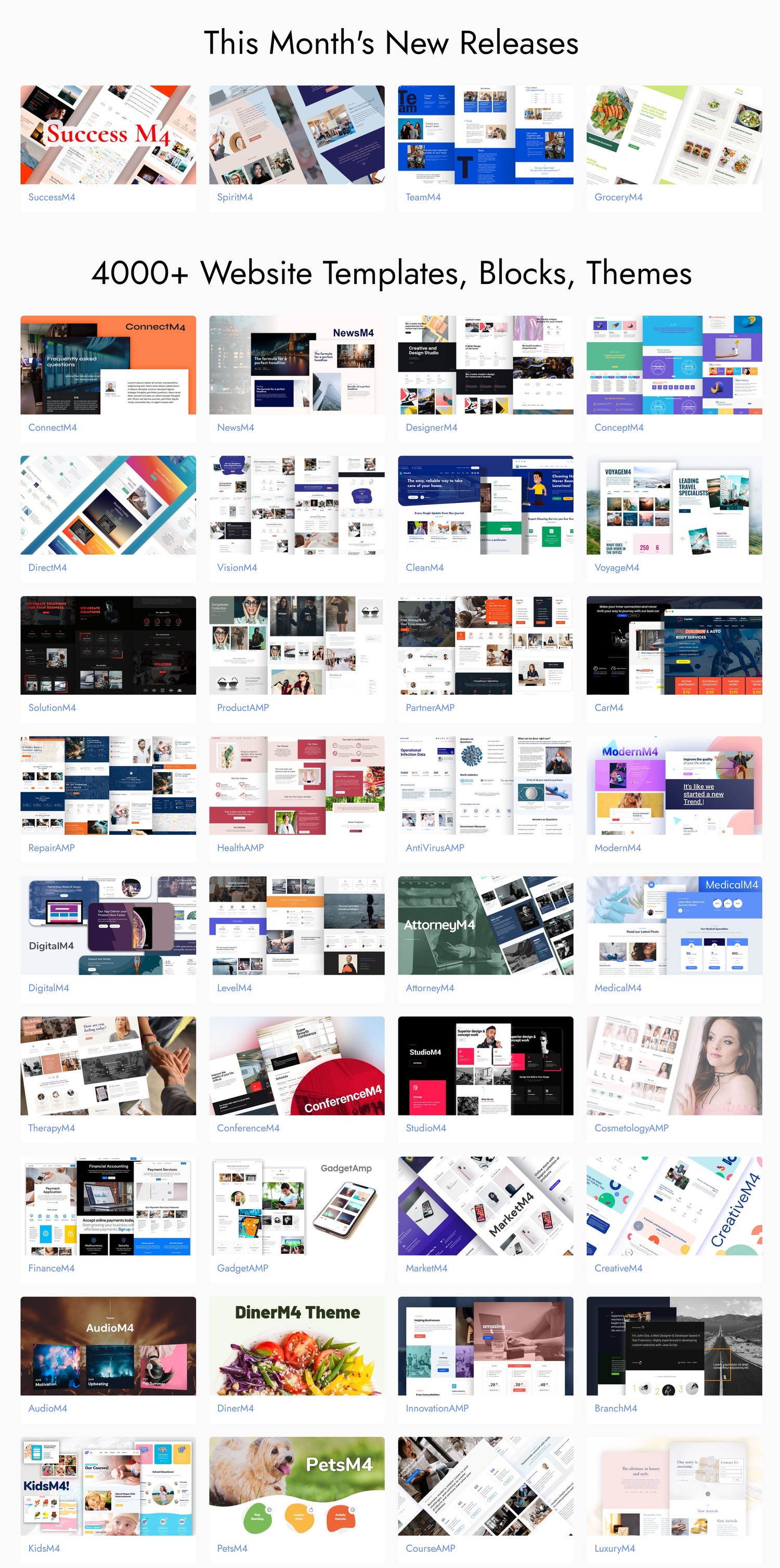 If you're looking for a quick tip on how to make a website with little work, try using a free website builder.
It's incredible how many websites are available on the internet today. Websites are always evolving and expanding in terms of diversity and functionality. We can't fathom a person without a personal website or a website dedicated to his or her business or interests. However, there are still people who do not have one.
For beginners and those who wish to display something fresh, there are many on- and offline website builder software options.
What is a website builder and how does it work?
Website builders are the best option for folks who don't have any programming skills and have a limited amount of time and money. However, professionals can sometimes acquire access to these tools because the bulk of them provide a visual representation of a website and allow users to develop websites as quickly as possible.
Modern best website builders offer a wide range of modern features, including responsive design, one- and multi-page websites with animations, picture and video backgrounds, media embeds, and more.
With the best website builders, you can construct a truly professional and appealing website in a matter of minutes.
Here is a list of the 46 greatest website builders that will allow you to create professional-looking websites on your own.
Hopefully, this website builder review will assist you in determining which website builder software is ideal for you.
The Alexa Rank and unique monthly visits are used to order this list.
1. GoDaddy
Alexa Rank: 92
Monthly Visits: 39,600,000
GoDaddy (www.godaddy.com) claims to be one of the popular web building platforms. The major directions of GoDaddy Company are selling domain names, providing hosting services and offering website building solutions. You decide whether you need to create a website by yourself or hire a professional to accomplish this task. But if you choose the first option, you can use GoCentral and WordPress DIY plans.
If we take a closer look at the GoCentral website editor, it will resemble the one from Wix. You are allowed to pick the website template according to your monthly plan.
There are 3 plan levels available for building and hosting a website. GoDaddy includes 1 GB, 10 GB and 50 GB of disk space accordingly. The Business Plan enables you to use 300 various templates, while the themes quantity of the Personal Plan is restricted to 50 designs only. Once you got started with a template, you get access to designing options. The panel on the right side allows using websites sections and customizing them in the most convenient manner. The GoCentral editor features Social Media Integration, Photo galleries, video and SoundCloud embeds, subscribe and contact forms, OpenTable reservation service and more others.
Depending on the chosen plan GoDaddy provides you with PayPal integration, SSL Security, SEO, built-in shopping cart and other features that will come in handy by running an online business.
If you need to build an online store, you are also welcomed to use webstore building services from GoDaddy. You will not only be able to establish the online presence for your products and services, but also have possibilities to manage orders and inventory for your web shop.
GoDaddy is known for its perfect customer support services. They offer 24/7 Live Chat and Email, Phone Support.
2. Wix
Alexa Rank: 154
Monthly Visits: 49,400,000 (including user sites under the subdomain 'wix.com')
In comparison to the majority of best website builders Wix (www.wix.com) increasingly gained its popularity in recent times. Now Wix is honored to be the most user-friendly online blank canvas website builders.
Wix strives to give users more flexibility and web design freedom holding onto its own concept of "absolute positioning". That means you can drag and drop website software elements quite onto every spot on your page, resize them and style your own way.
Wix Free Website Builder has a versatile amount of customizable modules: there are lots of menus with their advanced navigation options, decorative shapes, responsive galleries, embeddable music and video modules, buttons and social media elements - in other words, everything that fully suffices for creating a uniquely looking website design. If you still are still missing something, you can apply to third-party tools like Live Chat, Comments, Wix Stores, Site Search and more others.
If we compare best website builders, Wix largely overtops Weebly in designability of website elements. For that reason, Wix will fulfill needs of users who prefer to go into details refining every single part of the webpage.
Moreover, Wix provides collections of highly adjustable website templates divided into matching categories. Using these templates speeds up the web design process and allows building business websites, portfolios, landing pages, fashion blogs and other kinds of websites within minutes. Wix is a recommended suggestion from the most website builder review writers and web professionals.
3. Zoho Sites
Alexa Rank: 159
Monthly Visits: 50,800,000
Zoho Sites (www.zoho.eu) lets everyone with absolutely no coding experience cope with creating both basic and more complicated powerful websites.
Previously there was only a free plan for using Zoho Sites, now users can build websites for free as well as pay more advanced features.
Zoho Sites is a typical drag and drop site editor. You place the website element onto the canvas and edit them right there. All the website building process is clear and easy to understand. If you are into coding and advanced website customization, there is a HTML/CSS code editor available in the toolbar.
Zoho Sites is renowned for its feature-rich form builder. For example, its CRM builder allows to work with support requests and its forms are highly customizable.
Users have access to over 80 site templates that can be easily adjusted how they want.
4. Shopify
Alexa Rank: 227
Monthly Visits: 55,900,000
Shopify (shopify.com) is accepted by the majority of the biggest and most successful businesses to sell, ship, and transfer funds everywhere.
Build an online business with strong features that help you attract consumers, increase sales, and handle your day-to-day operations.
All of the ecommerce and point-of-sale features you'll really have to try, run, and help your business grow are all on one platform.
5. WordPress
Alexa Rank: 302
Monthly Visits: 18,900,000
WordPress (wordpress.org) is a free and open source platform for building a great website, blog, or app.
Attractive layouts, great features, and the ability to create whatever you want are all available to you. At the same time, WordPress is both free and invaluable.
Extend WordPress with more than 55,000 plugins to make your site more functional. Add features like as an online marketplace, portfolios, email lists, forums, metrics, and more.
6. Squarespace
Alexa Rank:
347
Monthly Visits: 30,900,000 (including user sites under the subdomain 'squarespace.com')
Squarespace (www.squarespace.com) is one of the oldest top website builders as it has been in the web world for over 10 years, but we admit that it still is a thriving company serving their clients and coming up with new web design ideas and features. Now Squarespace Website Builder is mainly considered as the right choice for users who are focused on the designing, shaping and styling process.
To get started, you need to sign up and choose one from the rich Squarespace website theme library. The website creation itself is as simple as a child's play: just click on the "Drop" button, select, manage and easily customize versatile site elements like text, quotes, images and videos, carousels and grid galleries, forms, lines and spacers. Although Squarespace empowers you to build websites without writing a code line, you'll be able to edit the existing website code and insert one of yours, if you are upgraded to Professional or Business plan.
Most of the users like the way they can handle images on the page: all the pictures added are fully adjustable, not grid-limited, so you can conveniently crop or enlarge them the way you want them to display on your webpage. There are also tons of features and customization options that let everyone build responsive websites that deliver a perfect viewer experience.
Squarespace supports multiple useful features for creating blogs and eCommerce websites: category division, tags, editable URLs, Disqus integration, simple products management, checkout adjustment, reliable taxing system and much more.
7. Weebly
Alexa Rank: 468
Monthly Visits: 152,900,000 (including user sites under the subdomain 'weebly.com')
Weebly (www.weebly.com) might be an acceptable site creation solution for those who want to fast get their sites up and running as it's developed especially for users with less technical coding knowledge.
If we dig into website builder review articles, Weebly is billed as one of the easiest online web design tools due to its intuitive drag and drop basis. Weebly's free website builder requires no coding at all, but you still have options to alter HTML and CSS of your website for more advanced customization.
To get started you have to choose one of the 40+ pre-designed layouts in terms of what you want to have in the end. There are a lot of responsive themes for creating online stores, personal or business websites, portfolios, blogs and events pages. Websites created with Weebly free website builder look stylish and trendy. You don't have to worry about their responsiveness as they are inherently mobile-optimized.
The dashboard of the free website builder contains structure blocks which include sections and dividers, basic elements like title, text, slideshow, gallery, map and contact form, eCommerce tools and media integration for embedding videos, audios and other files. Creating a website is minimized to simple drag and drop website builder mouse actions which essentially eases website development.
While making your own Weebly powered website you have a constant visual control over the process as you can literally watch your site turning into what you expect it to become.
Weebly offers free hosting and website building services as well as it provides multi-optional upgrade plans which implies having a free domain, advanced features for eCommerce and marketing, password protection, video backgrounds and much more.
8. 1&1
Alexa Rank:1,050
MonthlyVisits: 6,800,000
1&1 (www.1and1.com) is a widely used hosting platform that provides website building solutions, domain names and web hosting services.1&1 launched a quite easy and free website builder that is used by over 19 million clients and it's increasingly popular in Europe and USA. 1&1 was extensively promoted by The Telegraph as one of the easiest best website builders the world over and was also in partnership with Google and Microsoft. Until 2010 1&1 has partnered with Jimdo. That is why we can visually observe some similarities between these two website building programs.
1&1 has grown as a business specific website template provider. It offers a huge array of various themes (over 130) and covers about 180 industries.
1&1 also pursues the drag and drop conception, but it offers more limited functionality than its competitors. Websites made with 1&1 free website builder look nice, but they lack the mobile-friendliness.
Unfortunately, there are no free services as users need to obtain a license with one-month money back guarantee.
9. One.com
Alexa Rank: 1,978
Monthly Visits: 10,600,000
If you're seeking a cost-efficient website building solution, you can come across One.com (www.one.com). One.com is mainly a webhosting platform, but it has a pretty good free website builder at its disposal. It's included in every package One.com offers with domain registration and website space storage. As the most of best website builders out there, the one from One.com allows creating website without knowing programming languages.
Initially, One.com provided its services in Denmark where it was founded in 2002. Now the app usage extent has scaled up to 1 million users the world over.
Unluckily One.com's website editor is not a free online web design software: you can choose the most appropriate package and get refunded after 15 days using it. If you decide to work with it, you can purchase one year license as a rule.
Speaking of One.com's web editor, it's fairly intuitive and lets you place site elements onto your page wherever you wish and edit them without limits. Visually you can have your website precisely how you want. There are also more designing properties as needed for styling an attractive competitive website.
One.com Website Editor has preview options, so you examine your website as it looks on mobile and other devices. One.com serves eCommerce as Webshop and blogging features that are worth trying out. There are give or take 100 basic looking templates available, but they're responsive and quite appealing.
10. Strikingly
Alexa Rank: 2,359
Monthly Visits: 1,500,000 (including user sites under the subdomain 'strikingly.com')
Strikingly (www.strikingly.com) Website Builder focuses on the creation of one-page websites that has been a web trend for last years. Strikingly was founded in 2012 and now it's an ever growing and reliable site building platform.
Strikingly caters to needs of users who want an elegant personal website or a solid website for their small businesses. As most of web design tools it supports user-friendly drag and drop features while building sites.
Strikingly is so easy and understandable that the website creation process can turn into an amazing and fun adventure.
It takes users minutes to start making websites from creating a new account to picking a website template.
The left side panel of the Strikingly site editor is divided into different sections: about us, shop, visit, signup and others. You can drag elements from the panel and edit them on the page in a hassle-free way.
There are only 19 beautiful and functional themes available. They match business and personal website categories.
11. Webflow
Alexa Rank: 2,413
Monthly Visits: 6,800,000
More than 3,500,000 designers and teams use Webflow (webflow.com) to build, collaborate on, and develop amazing websites in a most convenient way and without any coding.
In a visual canvas, the Webflow Designer allows you to create any website you can dream using the full power of HTML, CSS, and Javascript.
Connect your website to your major marketing tools, launch new campaigns faster, and optimize your site on the go.
12. Tilda
Alexa Rank: 2,811
Monthly Visits: 4,600,000
Anyone can now work as a designer! You may rapidly create a new website, online store, landing page, or blog using Tilda's easy framework (tilda.cc/?lang=en). Simple, enjoyable, and straightforward.
Tilda blocks are easy to use and adaptable to any form of material because to their modern appearance and considerable versatility. All you need is solid content and an eye for design.
Covers that fill the entire screen, beautiful typography, image galleries, videos for background , forms, and more...
13. Jimdo
Alexa Rank:3,325
Monthly Visits: 6,700,000 (including user sites under the subdomain 'jimdo.com')
Jimdo (www.jimdo.com) Free Website Builder was inherently created in Germany and now it's used by millions of people worldwide. There were over 20 million sites made with the help of Jimdo Free Website Builder.
Jimdo can be surely placed in the top 10 site building tools. The reason is it's well-conceived and offers a fair amount of useful features for developing online stores or blogs. So if you consider creating an eCommerce website in a code-free way, Jimdo could be the perfect choice of yours.
If you are not a native English-speaker, you can enjoy multilingual services while building websites - in comparison to other best website builders, Jimdo supports 9 languages.
Jimdo's free services allow you to make websites of relatively high functionality. You won't be asked to get upgraded and you are not restricted by the time you are using Jimdo's free platform, but you may always utilize the paid platform if want for a wider array of features.
Jimdo's editor is extremely simple to use: it consists of areas that you can place website elements onto. These elements can be positioned in a vertical as well as horizontal rows.
As previously mentioned Jimdo has excellent eCommerce and blogging features. Jimdo lets you build blog websites with various social media and file integrations. Jimdo's eCommerce has no less options: tax system, payment options, item display and availability and more others.
14. Drupal
Alexa Rank: 3,382
Monthly Visits: 1,600,000
Drupal (www.drupal.org) is a well-known CMS, but its creators call it a community publishing system because of its being considered more like a social medium. Drupal tries to make the best of CMS, blogs, eCommerce and forums and integrate them in one most conveniently usable platform.
Drupal has a range of modules that can be added to a page and adjusted as required. It has a wide functionality: graphics editing tool, menu management, users management and others. Due to them Drupal allows developing social networks, blog websites, discussions sites with built-in shopping and eCommerce functions.
Drupal has multiple separate layers for system code, CSS and HTML code and for custom modifications.
With Drupal it's easy to manage any sort of content elements: audios, videos, text, statistics, polls and others. There is a vast amount of useful scripts and plugins available. It's up to you, whether you will use your own plugins or the ones from Drupal.
Preset page functions and options alleviate the website creation process allowing to build plain and simple as well as complicated websites.
15. Webs
Alexa Rank: 3,803
Monthly Visits: 2,600,000 (including user sites under the subdomain 'webs.com')
Webs (www.webs.com) has been providing its web creation services since 2001 and it can still be called as a thriving company with modern and high-demand site building solutions despite the appearance of other greater site creating tools like wix and Weebly. Now there are about 50 million users worldwide who built and host their website due to Webs assistance. Primarily Webs attempted to build business-focused websites only, but now it's used for more versatile purposes.
In 2012 Webs launched SiteBuilder 3. It's a drag and drop based WYSIWYG site editor with a great collection of beautiful functional website layouts, so users have more control over the viewer's' experience. Webs's customers just need to make some clicks in order to drag website modules such as slideshows, pictures, paragraphs and style them the way they like.
More than that, Webs is famous for its membership site building services. Users are empowered edit their membership websites directly on their sites.
Webs also provides an App Store where you can find powerful third party tools in order to integrate SEO, sharing systems, info management tools and more others into your website. Besides, there are 450 site themes with responsive design to pick from.
16. iPage
Alexa Rank: 5,508
MonthlyVisits: 1,300,000 (including user sites under the subdomain 'ipage.com')
iPage (www.ipage.com) has become popular because of providing website building services at the lowest prices. But its cheapness doesn't imply low quality as it offers acceptable web design tools and customer support. The company was founded in 2009 by industry veterans who were behind the Endurance International Group organization that owns GoDaddy, BlueHost and other web hostings.
iPage is fully user-friendly, there is no problem to get started quickly. iPage is based on Weebly drag and drop free website builder that is comprehensible even for web design novices.
To start creating you need just to go into your iPage account and choose the Weebly drag and drop website editor within the "Website" section.
The most website builder review experts would say, even though iPage uses an outdated version of Weebly site creator, you are able to craft a worthy website with it as it offers excellent user-oriented features with an extremely simple to use interface.
As for customer support there are web development experts that give you valuable, helpful and professional advices if you experience any kind of iPage issues.
There is a great site theme collection you can use completely mobile-friendly website templates from. It's also possible to apply to WordPress and Joomla services within iPage site builder.
17. Network Solutions
Alexa Rank: 5,563
Monthly Visits: 1,100,000
Network Solutions (www.networksolutions.com) provides some web hosting plans which come along with a free website builder. You can upload files via FTP, use website templates, choose pictures from the image catalog, apply to open sources like Drupal and Joomla.
Once you are subscribed to Network Solutions, you have access to the inbuilt website builder. Using it, customers are able to quickly create visually appealing website. The free web builder features the popular drag and drop system which lets users position elements from the left menu on every spot on the page. The modules can be effortlessly modified: you can add YouTube videos, edit texts, upload images, insert a form, galleries, social media links etc. It also supports JavaScript that enables adding simple website animations.
Beside that, Network Solutions offers a particular storefront site builder, but it seems to produce less responsive websites.
In case you need some help, you can write a message to 24/7 email customer services of Network Solutions or just call them.
18. Duda
Alexa Rank: 8,610
Monthly Visits: 514,600
Duda (www.duda.co) as DudaOne free website builder is a top-notch and renowned web design tool that's focused on generating websites and converting them into mobile-friendly versions.
DudaMobile is a web design tool for building mobile-only websites.
DudaOne is suitable for small and medium businesses. Since its release, Duda has helped out a lot of users by offering excellent creation and mobile-conversion services.
Duda requires no much user interference as you can watch your website being built by the Duda System itself. Duda provides commendable eCommerce and form building solutions as well as it allows the development of blogs with an impressive array of blogging functions.
19. SITE123
Alexa Rank: 9,030
Monthly Visits: 570,400
For those who're going to create a promo websites or blogs, SITE123 (www.site123.com) can surely come in handy.
SITE123 is a simple site editor with some functionalities for creating websites like landing pages and online stores as well.
You can build unlimited websites using just one account of yours what makes this website builder stand out from their peers. Choose a plan and get started - it's easy to begin with.
The SITE123 platform is supremely user-friendly and easy to comprehend as it provides multilingual support (15 languages available). Users don't have to be experienced in programming to build stable websites with SITE123. They're able to accomplish their site creation task within minutes.
20. Carrd
Alexa Rank: 11,361
Monthly Visits: 18,900,000
Carrd (carrd.co) has you covered whether you need a personal profile, a landing page to collect emails, or something a little more elaborate.
Make it your own by starting with one of dozens of templates (or a blank canvas). Look excellent on whatever screen size, from phones to tablets to desktops, right out of the box.
Create up to three sites per account and take advantage of all of Carrd's essential features - all for free!
21. SimpleSite
Alexa Rank: 12,319
MonthlyVisits: 1,400,000 (including user sites under the subdomain 'simplesite.com')
The major intention of the SimpleSite (www.simplesite.com) Website Builder was the ability to create websites as easy as possible.
They reached their great goals, helped about 50 thousand people to host websites and by and large 2 million users with other web building services.
Since the launch of the company in 2003, SimpleSite has become a trusted tool for the website creation.
The editor of the SimpleSite does really give the look and feel of simplicity. Users can insert various site blocks, for example, slideshows, news, photos, text, columns. SimpleSite delivers basic features, therefore it seems to be a bit restricted.
22. Volusion
Alexa Rank: 15,713
Monthly Visits: 395,000
While searching for a reliable eCommerce free website builder, you will definitely stumble upon one of the powerful and easy online store building solutions - Volusion (www.volusion.com)
With this excellent web design tool quite everyone can cope with creating appealing web store with a stack of functionalities that will catch and grab viewers' attention.
Volusion is often considered as a bloated and bad organized site creator. But it's a typical and understandable problem with eCommerce builders. Generally speaking, Volusion deserves to be used for an easy creation of online stores despite some minor flaws.
23. Hostpapa
Alexa Rank: 15,762
Monthly Visits: 340,800
Hostpapa (www.hostpapa.com) is mainly considered as a web hosting platform, but it offers a website builder as well. Hostpapa promises to provide site building services that will be sufficient for you to build stunning responsive sites for businesses that look professionally and stylish.
The websites made with Hostpapa website builder are fully optimized for mobile devices. Their site builder comes along with step-by-step how-tos and tutorials that eases site creation making it more understandable.
You can customize every element on the page, vary colors, add images, adjust site navigation and more.
24. Mobirise
Alexa Rank: 16,213
Monthly Visits: 523,700
Mobirise is one of the offline block-based free best website builders that provides excellent drag and drop and user-friendly web design solutions. Mobirise is easy to get started: once you've downloaded and installed it, you have to quickly sign up, choose a website template and just drag and drop site blocks on the blank page. Mobirise is completely free for any kinds of use.
Mobirise is renowned for its free and responsive website themes powered by Bootstrap, the most reliable and stable framework. Once the template is picked, users can vary over 600 trendy and modern website blocks on their page. These blocks are pre-designed yet easy to customize using their parameters.
There are preview options for more control over desktop and mobile website appearance.
25. Yola
Alexa Rank: 18,503
Monthly Visits: 274,500
Yola (www.yola.com) was launched in 2007 and helped people to put more than 10 million sites online.
It has similarities to Weebly and Wix as they all are comparatively easy-to-use. Yola has an convenient yet a little outdated interface. You can create websites through adding and rearranging website blocks as many DIY site creator tools offer this: insert structure elements like galleries, text, buttons and widgets like videos, Facebook comments, players and more.
Yola is quite famous for its outstanding support services: users can reach out to them via telephone.
26. DoodleKit
Alexa Rank: 18,933
Monthly Visits: 342,300 (including user sites under the subdomain 'doodlekit.com')
DoodleKit (www.doodlekit.com) is a drag and drop DIY site editor, started in 2006.
DoodleKit was created and published exactly the time when Jimdo and Wix have started providing their web building services.
Anyway, it became a popular website builder with the membership of 50 thousands of clients and over 2 million user sites. Working with DoodleKit doesn't require any special skills and programming knowledge. Its WYSIWYG approach alleviates the web design process increasingly. It has user-friendly control panel with eCommerce, forum and blogging platforms. The themes look nicely yet out-of-date.
27. uCoz
Alexa Rank: 19,842
Monthly Visits: 1,300,000 (including user sites under the subdomain 'ucoz.com')
uCoz (www.ucoz.com) is a Russian free website builder, has been serving on the web since 2005, providing web hosting and CMS solutions. uCoz may be the ideal choice for non-coders who lack any programming knowledge, but it also draws the attention of webdesign professionals as it enables both code-modifying and visual customization. Generally, uCoz may be billed as a superb example of a free website builder, but it has some flaws anyway.
uCoz is easy to get started with: it takes anyone just seconds to install it and set up a necessary template with modules. It features plenty of easy and advanced options for both web novices and professionals that deliver exciting website creation experience.
uCoz allows you to choose from over 200 site themes offering various stunning widgets and useful gadgets. Its web editor makes websites adjustable just through simple mouse clicks. It's allowed to create custom themes and exchange them while editing a website.
28. Jigsy
Alexa Rank: 20,901
Monthly Visits: 56.,600 (including user sites under the subdomain 'jigsy.com')
Jigsy (jigsy.com) is often viewed as an good and amazing free website builder offering more freedom for professional web designers and more user-friendliness for web design novices. There are restrictions: you can use only 25 MB space and 5 pages per site. But comparing Jigsy to others prominent web builders it lets preview sites for free.
There are many free components as well as components available in the premium package only (like audio player and social buttons). But the most of features users find in free section where is everything needed for building a simple yet stable website. The templates from Jigsy accommodate every screen size automatically.
29. Homestead
Alexa Rank: 23,619
Monthly Visits: 1,300,000 (including user sites under the subdomain 'homestead.com')
The oldest Website Builder, Homestead (www.homestead.com), was founded in 1996. It had been a leading provider of website building solutions for some time. But now it doesn't match the requirements for a web design tool that allows building modern and trendy websites.
Anyway, Homestead is worth a try, because it offers some templates and features users might find useful.
Online editor of Homestead is very easy to understand and use. It gives the basic features for building a simple website. The offline version is too complicated.
Homestead web-based site builder looks well-organized, because it lets you add pages, manage and edit the content of your website without efforts.
There is a template gallery where we can reveal hundreds of Homestead's website themes that look appealing yet not trendy. Users can find the appropriate one using a theme filter. You can't switch to other template if you've already chosen one: you will just lose your content.
Homestead offers a free one month trial to get acquainted with it.
30. Simvoly
Alexa Rank: 26,385
Monthly Visits: 198,500
Just one look at the home page of Simvoly (simvoly.com) gives us a feel of modernity and high usability of this software.
It's also drag and drop powered, lets add versatile website sections on the page. There are pre-made images, sliders, icons and much more. You can include them just in a couple of clicks.
Simvoly produces mobile-friendly websites that fit every device screen automatically. That's why Simvoly is worth looking at and trying out.
31. Webstarts
Alexa Rank: 27,671
Monthly Visits: 453,700 (including user sites under the subdomain 'webstarts.com')
Webstarts (www.webstarts.com) is known as the most beautifully organized and easiest site builder on the web market. Though it looks a little out-of-date, it provides clean and easy site building services. As a completely drag and drop site creator, WebStarts allows users to conveniently customize their websites by just dragging some elements, managing their properties and changing the content on the page canvas.
There is a rich collection of full-functional themes that are fully responsive and mobile-optimized. But WebStarts doesn't offer a switch template option, so users should decide from the start which template they're going to work with.
Summarizing the above, WebStarts is a reasonable solution for non-techies with no coding experience who need to build their own websites by themselves without help from outside.
32. IM Creator
Alexa Rank: 35,660
Monthly Visits: 99,600
IM Creator (www.imcreator.com) has joined the top website builders club since 2011, the release year of their beta version. Now IM Creator is a well designed drag and drop and free website builder with some appealing template at its disposal.
IM Creator boasts an extremely easy and fast web design platform. It has several website themes that let users effortlessly launch their sites within minutes.
IM Creator's website editor is that comprehensible that no one can run into difficulties while using it. There are even no signup option needed to get started: just choose a template and edit it in the most convenient manner.
33. uKit
Alexa Rank: 49,130
Monthly Visits: 223,900
uKit (ukit.com) is a perfect site builder tool for landing pages and websites for businesses. There are over 300 site templates for businesses and agencies: they all are separately put into 26 matching categories, have business specific pre-set structure and content. Despite the fair amount of themes, they look comparatively similar.
uKit enables creation of online stores as well: there is an inbuilt Ecwid eCommerce building solution, although web stores can't be imagined being built with WYSIWYG website builders.
The main feature of uKit is widgets and their functionality. They can be dragged to a page and altered as required.
34. Puzl
Alexa Rank: 49,654
Monthly Visits: 79,700 (including user sites under the subdomain 'puzl.com')
Puzl (puzl.com) can start impressing you once you open their official webpage - it's well-organized, responsive and looks attractive and modern. The same feelings users have when building websites with this system.
To get started, users answer some business related questions, as the website builder has initially started as the one for business owners.
If we'd look back into the past, it was a real good site building tool, but now it can't compete with web design giants out there.
35. Bootstrap Studio
Alexa Rank: 51,077
Monthly Visits: 201,600
Bootstrap Studio (bootstrapstudio.io) is a web design tool for developing Boostrap-based websites.
It's a web creation software which includes a huge variety of elements and components such as drag and drop system. Using Bootstrap Studio you can instantly get great website designs.
It's highly intuitive and features CSS Editor and powerful web designing components managed just with some mouse clicks.
36. Ucraft
Alexa Rank: 62,693
Monthly Visits: 106,200 (including user sites under the subdomain 'ucraft.com')
Ucraft (www.ucraft.com) is an alternative block-stacked website builder supposed to satisfy web development novices as well as experts with great services for landing page and business website building.
Ucraft is obviously created for web designers as it features some good design and customization options: the blocks look modern and polished and they are powered with a few simple yet impressive effects like fades, parallax scrolling etc.
Their home page is an outstanding example of how a website built with Ucraft can look like, because it's actually developed with it. You will find every feature you need that can be applied to your websites and its elements, blocks and widgets.
37. Moonfruit
Alexa Rank: 65,233
Monthly Visits: 157,900 (including user sites under the subdomain 'moonfruit.com')
Moonfruit (www.moonfruit.com) is an intuitive and pretty well thought out free website builder, but it has a few disadvantages. First of all, it's based on Flash that let websites and the creation process itself look a bit outdated. There's also no way to edit the HTML/CSS code of your website which makes the website customization more limited.
But if we take its advantages into account, Moonfruit is a blank canvas online builder which implies you can position your site elements quite everywhere on the page. There's a drag and drop support that lets place widgets and elements just with a few mouse clicks. All features can be divided into 4 groups: Standart, Shop, Blog and Mobile.
38. 8Bio Link in Bio
Alexa Rank: 65,968
Monthly Visits: 650,100
8bio is a program that allows you to create a link for your Instagram or TikTok account.
What does the term "link in bio" imply? It represents the area underneath an Instagram profile picture and directly above any posts/feed.
Many social media networks, such as Instagram and TikTok, allow users to create a link to your profile so that your followers could find your site, product description, and other essential webpages. Simply visit the profile homepage to check the bio and the link to click.
39. Mozello
Alexa Rank: 94,399
Monthly Visits: 379,800 (including user sites under the subdomain 'mozello.com')
A newbie in the website builder field, Mozello (www.mozello.com) was founded in 2015 in Latvia and now its popularity is permanently growing. Mozello is a web builder for designer who are seeking a starter way to create websites. Mozello is an acceptable DIY solution with some features for eCommerce. It generates fully mobile-friendly websites providing multilingual services.
40. Pinegrow
Alexa Rank: 105,070
Monthly Visits: 93,900
Pinegrow (pinegrow.com) Web Editor is a WordPress-powered desktop application. Pinegrow uses smart and easily configurable components, CSS styling and multi-page editing options that facilitate the website creation enormously. Initially Pinegrow existed as a plain HTML/CSS Editor. Now it's been developed to a really helpful and modern web designer tool.
Pinegrow can also be considered as a teaching software, because it provides some tips for advanced coding.
Pinegrow Web Editor supports Bootstrap, AngularJS, Foundation and HTML, the most popular and safe frameworks.
41. Voog
Alexa Rank: 123,284
Monthly Visits: 105,900 (including user sites under the subdomain 'voog.com')
Voog (www.voog.com) is a light-touch simple and free website builder that aims at giving possibilities to fast develop responsive multilingual websites.
The initial name of this estonian website builder was Edicy, but in 2014 it was re-branded as Voog.
Voog covers the majority of all functionalities needed to create a good and stable website. Users will find the customizing options at the bottom toolbar.
Also, Voog offers eCommerce, blogging and form building features.
The major upside of Voog is their multilingual site building. There is no site creation tool whatsoever that overcomes Voog on that score.
42. 8b website builder
Alexa Rank: 132,494
Monthly Visits: 44,700
8b is a free and straightforward online website builder that allows anyone to construct fast, mobile-friendly, and Google-optimized websites in no time.
8b is ideal for folks who don't know how to program but want to have a strong online presence.
Site construction is simple and requires no code. Beautiful and modern templates. Hosting, domain, SSL, Google AMP, SEO, PWA, and site export are all included.
43. StartLogic
Alexa Rank: 154,328
Monthly Visits: 171,500 (including user sites under the subdomain 'startlogic.com')
StartLogic (www.startlogic.com) is a alleviated yet elegant online web builder for quickly building unique websites.
It offers wide possibilities in building everything from basic sites to advanced eCommerce websites. StartLogic supports 'Site Expresso' tool that build a website for lazybones: answer site-related questions and the system will create it for you. There's a huge amount of powerful features for blogs and eCommerce websites that speed up the site creation process giving your websites more functionality.
44. Sitebuilder.com
Alexa Rank: 160,324
Monthly Visits: 121,300
Sitebuilder.com (www.sitebuilder.com) is a fast-growing company that produced a reliable and acceptable free website builder. SiteBuilder.com is intended to show the most clean and easy interface and powerful features.
With SiteBuilder.com you can accomplish everything you need to launch a website. You are allowed to not only build website, but also get free lifetime domains. SiteBuilder.com's services are relatively cheap and give much freedom in building and publishing websites live.
SiteBuilder.com's design and funсtionalities form a excellently working platform that allows drag and drop and adjust content easily like never before.
45. SnapPages
Alexa Rank: 173,847
Monthly Visits: 295,000 (including user sites under the subdomain 'snappages.com')
SnapPages (snappages.com) is a powerful and responsive web editor.
The most website builder companies just release their products and maintain them. SnapPages had not only produced a brilliant website builder, they also keep trying to update it in the smartest ways. So the latest release eliminated all fixes and issues users have ever experienced while creating website with it.
SnapPages works like every webpage editor: it has sections to stack on top of each other that users have the chance to customize and adjust like they want.
SnapPages has also the drag and drop format of its functionality, so it's highly easy to build something with it.
46. Webnode
Alexa Rank: 179,556
Monthly Visits: 319,400 (including user sites under the subdomain 'webnode.com')
The Webnode (webnode.com) Free Website Builder was launched in 2008 by the Westcom company. Until now the project has been developed intensively and has become to a reliable web design platform for the website development.
Currently, Webnode is utilized by over 27 million users around the world. Webnode divide their services in two parts: personal and business usage, so there are some differences at the provided packages, but both of them has a similar drag-and-drop basis with a relatively wide suite of functions and features.
Like its competitors, it was developed towards the separation into sections where some functional units like images, texts, forms are available. Some of sections have multiple features, so they can be considered as separate convenient templates (over 17).
The website templates available amount to more than 200 types.
47. Webydo
Alexa Rank: 326,936
Monthly Visits: 42,800 (including user sites under the subdomain 'webydo.com')
Webydo (www.webydo.com) is an easy drag and drop free website builder tailored to webdesigners who need a simple tool to build website with. The editor resemble the one from Photoshop: there are grid, layers, rulers etc. With Webydo designers can also craft an online shop using Ecwid inbuilt widgets.
Webydo was launched in 2013 and now it's gained an aspiring user community of web and graphic designers who are into creating pro-looking attractive websites for their clients. Webydo features a drag and drop functionality like other best free website builder tools, but it stands out with its minimalistic and clean interface.
Webydo has built up their name in the web market. Today there are over 250 thousands of satisfied Webydo users.
48. OnePager
Alexa Rank: 693,630
Monthly Visits: 12,699
OnePager (onepager.com) Website Builder was created to develop stupidly simple one-page sites. This tool lacks a lot of functionality, but it also allows to finish a one-page website as fast as possible.
Despite all of its disadvantages people love it. That's because it's too simple and offered at reasonable price.
The user community of OnePager mainly consist of business people who don't want to hire web design professionals to build webpages for them.
49. Macaw
Alexa Rank: 708,554
Monthly Visits: 2,331
Suitable for web designers, Macaw (macaw.co) shows the high level of flexibility and usability in website building.
Users literally draw their websites with this tool, because it works the same as standard image editor with advanced HTML/CSS features.
Macaw is highly focused on the front-end development, has an array of useful tool to speed up the web design process.
50. WebEden
Alexa Rank: 1,173,216
Monthly Visits: 31,268(including user sites under the subdomain 'webeden.co.uk')
WebEden (webeden.co.uk) is an all-inclusive solution for those who want to establish their web presence.
It offers domain providing, web hosting and site building services. Speaking of its free website builder, it creates appealing websites, but they don't seem to look greater than those built with Wix or Weebly.
WebEden website builder is completely drag and drop based and that gives users more freedom on what they want to have as the end result.
51. bOnline
Alexa Rank: 1,223,151
Monthly Visits: 54,400
bOnline (www.bonline.com) serves as a high quality free website builder providing an integrated web marketing services which come useful to web design newbies and professionals who need their own personal or business website.
Users have a decision freedom whether they want to hire a professional to build a website for them or just create it by themselves. If they opt for the second choice, they can choose one from hundreds of website themes. bOnline web editor allows an easy customization of fonts, images, styles and buttons.
52. BuildYourSite
Alexa Rank: 1,490,980
Monthly Visits: 10,169 (including user sites under the domain 'login.buildyoursite.com')
Many reviewers include BuildYourSite (buildyoursite.com) in their top website builders lists and possibly it deserves to be there.
BuildYourSite website builder looks easy and intuitive for an online site building tool. It's the right choice for those that are going to showcase their products and services and share them with the online world at affordable prices.
There can be stressed some advantages of BuildYourSite like a great customer service and no requirement for coding, but it produces non-responsive websites only what insurs some inconvenience for users of mobile devices.
Wrapping it up
Hopefully, this website builder review will help you find your best website builder software. Whatever you will opt for, all these tools have their up- and downsides, but their main idea stays the same: give people a power to create modern websites without efforts.